Spring is in the air and so is our need to get out in the Great Outdoors. For many of us that means we will put more miles on our cars than we did this last year during the pandemic. Many Americans will load up and head out on the open road all over this great nation. Before you load up the camping gear, dogs, and kids to head out on the adventure you've been planning take some time and make sure your car is ready for the trip you have planned. Here at Douglas Automotive we have complied a simple checklist to help you get prepared for the adventurous Spring and Summer months that are barreling right toward us. For those of us where the warmer means you will be towing your boat or camper stay tuned. We will have another article coming that is geared toward those who tow frequently in the summer months.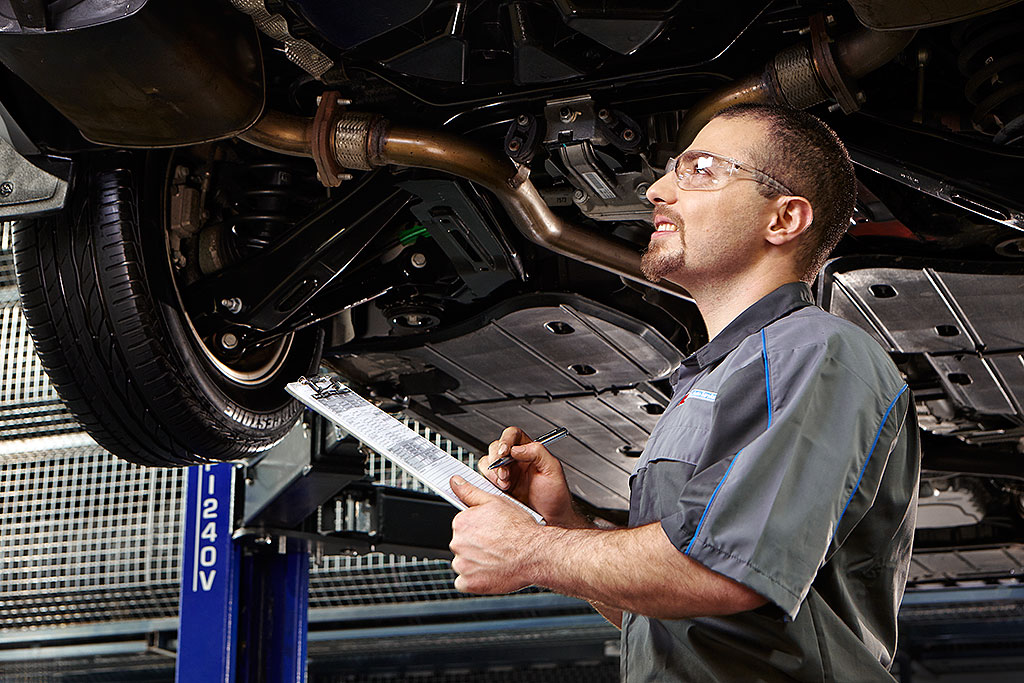 Why should I get an Inspection? Having a Vehicle Inspection completed can save you time, money, and hassle. No one likes to break down especially when you are on Vacation or Road Trip. A breakdown can ruin a trip or an outing in no time flat. You have two choices when it comes to a vehicle inspection. You can try to find a checklist online you can print and use to inspect your vehicle. The other option and with more in-depth findings would be to have a local repair facility complete a vehicle inspection. You can make an appointment at the shop you prefer for an oil change and a vehicle inspection. By having you local trusted shop complete the inspection and oil change you will know all the fluids have been checked for level and contamination. We supply our customers a copy of this inspection in advance so the customer is aware of what we will be checking as well as it gives us an opportunity to discuss the car and any issues the owner may be experiencing.
2. Vehicle Fluids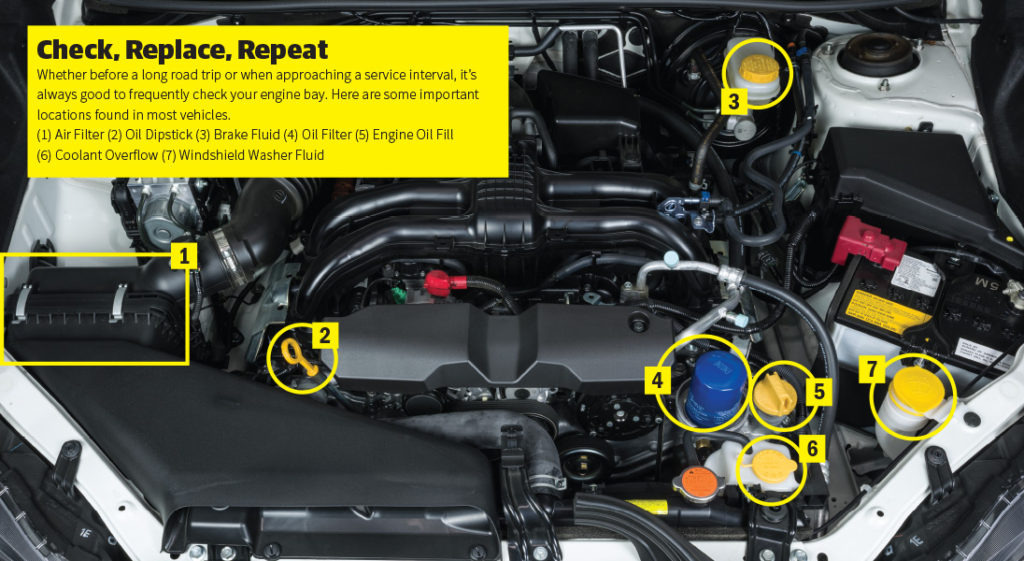 Your vehicle has lots of different types of fluids. Most of us are have checked the oil on our cars a time or two. There are other fluids critical to the operation of our car that need to be checked as well. When checking fluids, you will be looking at two different things how full the fluid is and the condition of the fluid. If you are uncomfortable with checking the fluids you can also have a shop check them for you. Be careful when checking the fluids in your car when its hot you can burn yourself with steam or the fluid its self. Take the time to check the following fluids if they apply to your vehicle. Differential fluid front and rear, transmission fluid, engine oil, power steering fluid, Coolant (only when cold), brake fluid, windshield washer fluid, and transfer case fluid. If you are topping any of these off make sure you use a fluid that is compatible with your vehicle. There are so many fluids out on the market take the time to confirm you are putting the proper fluid in. Installing the incorrect fluid can damage your car.
3. Air Conditioner Working?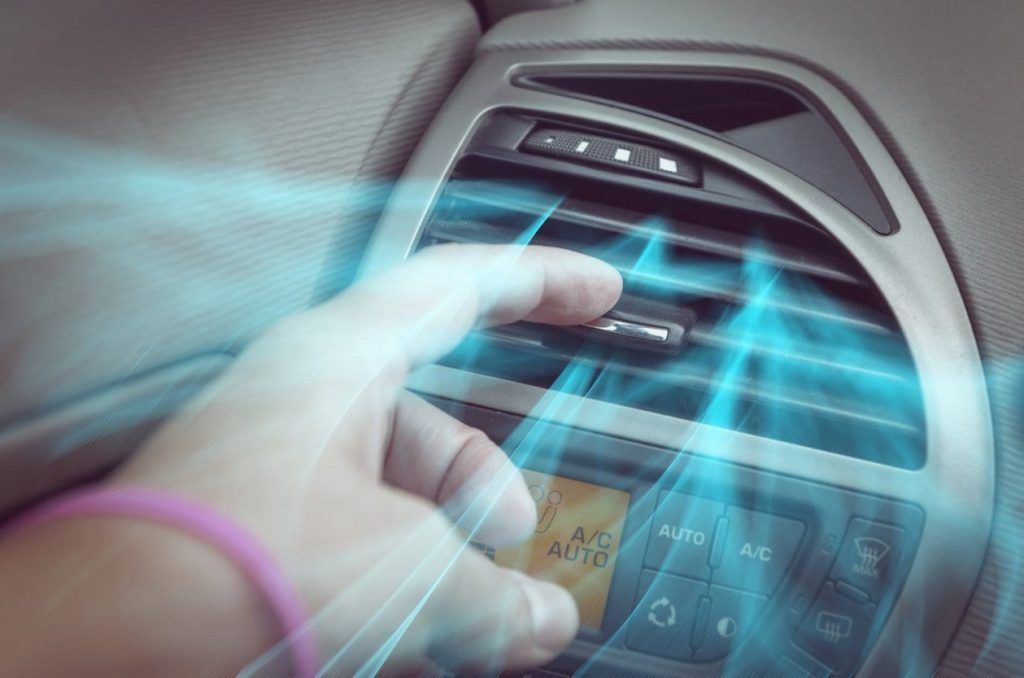 For many of us when the colder months hit of fall and winter, we do not turn our A/C. Once it starts to warm up outside give your A/C a try and confirm it is working. It is better to find out your A/C is not working up to your expectations before you find yourself needing to use it in the hotter spring and summer months. Keep in mind the temperature coming out of your vents should be at most approximately 20 degrees cooler than the ambient air temperature outside of the vehicle. If your air conditioner is not working there could be a few different reasons. To properly fix a broken A/C system take it to a qualified repair facility they will have the needed tools and knowledge to repair it correctly. Tip: Some shops will not work on an A/C system if a stop leak has already been introduced to the A/C system. Those A/C stop leaks can clog and damage the shop equipment.
4. Check your tire tread depth, air pressure, and condition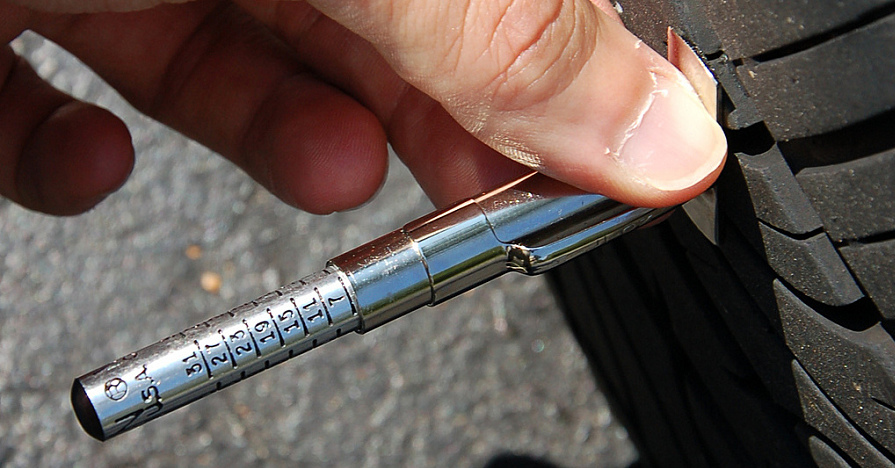 Before you start racking up the miles make sure the tires on your vehicle can handle all the miles. You can get a tread depth gauge at your local parts store to measure the actual tread depth. You can also use a penny and see if it is time for new tires. You can also look for the wear bars on the tires and see how much tread is left before it gets wore down to the point of needing replacement. When it comes to checking the tire pressure you will need an inexpensive tire pressure gauge. Last thing to look at on your tires is the condition of the rubber. If you see any signs of weather cracking in the sidewalls or between the tread you will want to replace the tires even if there is good tread life left.
5. Charging and Starting System Test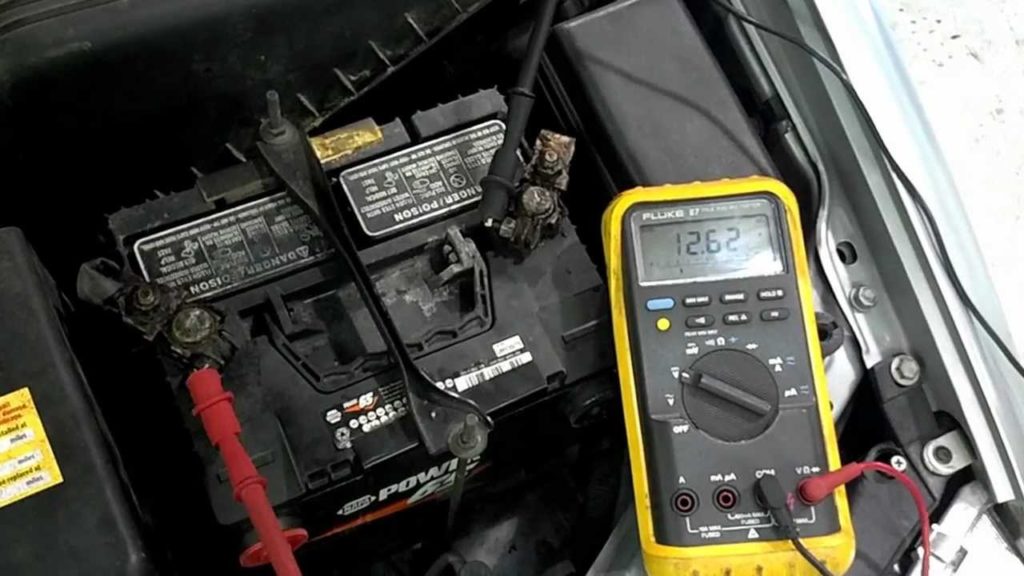 One thing many motorists don't think of is the toll the cold winter months can take on their primary starting battery. Those few months of freezing cold temps can have an adverse effect on the overall power output and longevity of your vehicles primary starting battery. Coming out to a vehicle that is not starting is a massive inconvenience for anyone. Your local automotive repair shop or Auto Parts store should have the capability to test you starting and charging system to confirm they are working properly. They will also be able to put a load test on the battery to verify it has the proper cranking power to start your car when needed. Tip: Consider purchasing a jumpstart pack you can keep charged in your car incase of emergency. This item can jumpstart your car without the need of another vehicle.
6. First Aid Kit/ Vehicle Emergency Kit
Confirm you can find the Emergency kit that should be in the car. If you do not have one now would be a fantastic time to acquire one for the car. There are some must haves in the kit to keep in mind while you are shopping for one or are trying to refill items that are missing from your kit. Confirm your kit at a minimum has the following jumper cables, emergency triangles/flares, water, gloves, fix flat/tire pump, first aid kit, and minimal tools. Some optional items you can carry would be a jumpstart pack,emergency glass break/ seat belt cutter, and a good medical first aid kit.